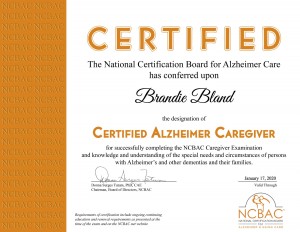 The National Certification Board for Alzheimer CareTM
announces 2019 Certified Alzheimer CaregiverTM (CACTM) certificants.
For immediate release: January 18, 2019
Contact:
Donna Surges Tatum, PhD, CAE
Board Chairman
NCBACTM
3170 N Sheridan Rd Suite 1008
Chicago, IL 60657-4882
info@ncbac.net
CHICAGO – The National Certification Board for Alzheimer CareTM (NCBACTM) today announces 2019
Certified Alzheimer CaregiverTM (CACTM): Brandie Bland
The NCBACTM is an allied healthcare board certification organization, which confers two national credentials
and maintains a Registry for Certified Alzheimer Caregiver (CACTM) and Certified Alzheimer Educator
(CAEdTM).
Board certification offers a voluntary, credentialing procedure that attempts to validate the competence of
Alzheimer Caregivers and Educators founded on practice-based knowledge and application of that knowledge.
The NCBACTM certification programs adhere to Standards for Educational and Psychological Testing
co-published by the American Educational Research Association, American Psychological Association and the
National Council on Measurement in Education (AERA, APA, NCME); accreditation standards established by
the National Commission for Certifying Agencies (NCCA) as well as the American National Standards
Institute (ANSI); Guidelines for Computer Based Testing from the Association of Test Publishers (ATP); and
best practices for fair testing.
Brandie Bland is someone who cares for those with Alzheimer's disease and other dementias. CACTM may be
family members, or healthcare professionals who work in home healthcare, adult daycare centers, hospice,
assisted living facilities or nursing homes.
CACTM have the knowledge and understanding of the special needs and circumstances of persons with
Alzheimer's and other dementias and their families. They have the competence to work on a practical level
with this population, using their knowledge of the disease to apply strategies to produce the best possible
environment of care.